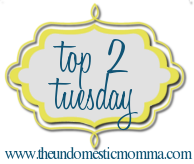 Top 2 Things you've learned from your parents or grandparents
1. Trust your gut. If your mind/gut are telling you something, it's probably right! Don't discount what you think you should be doing and just go for it. No matter how it turns out, you'll be happy you did whatever it was.
2. Believe in your dreams and go for it. If a door shuts, another will open. My family isn't full of quitters. We're all hard workers and go for what we want. If you don't try, you'll never know. If something turns up a dead end, there's a rainbow somewhere else with your pot of gold waiting.